The Wild Goose
Cowhide Rugs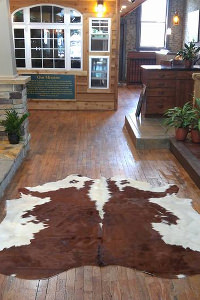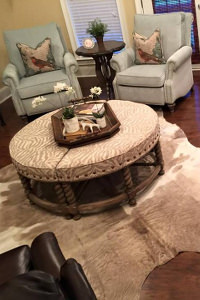 All of our hides are chromium tanned and come from South America. We choose only the best; we do not sell second quality hides.

We sell the hides retail (one at a time, for a great price) or wholesale (for a minimum order of five).

Our best sellers are the large/extra-large Brazilian hides. These are 30-45 square feet (approximately 5ft x 7ft to 6ft x 8ft). The light tones are very popular right now with designers but the Brazilian hides come in many different colors and patterns, as well as short hair or longer hair. They are all beautiful! Retail is $325 for most. There are exceptions for gray tones, solid whites and printed exotic hides. When purchasing five or more, the wholesale price is $275.00 each. If you are interested in larger quantities, let me know and I will work with you.

Medium Brazilian cowhides are 20-29 square feet and measure approximately 4ft x 6ft. These retail for $200.00 and wholesale (for 5 or more) is $150.00 each. They come in a wide variety of colors and patterns.

Our small Brazilian hides are between 10-19 square feet. They measure approximately 3ft x 5ft. These are great for small areas and entry ways.
The small Brazilian hides come in all varieties of colors. Retail price is $150.00 and wholesale (for 5 or more) is $125.00.

We also carry large/extra-large Columbian cowhides. These are also 330-45 square feet (approximately 5ft x 7ft to 6ft x 8ft). They are top quality hides, but are not the same as Brazilian hides. They do not have many marks, scars or brands. They are a thinner hide but are durable and still do a great job. I have never received complaints regarding quality. They are, however, more limited in color and pattern, most being the longer hair, tricolor look. Retail is $225.00, wholesale is S175.00.

We carry a medium-size Columbian hide, at times. This size and style is not always available. They are 20-29 square feet and, on average, are about 4ft x 6ft. Retail is 150.00 each; wholesale (five or more) is $125.00.

We sell calfskin rugs which are approximately 2ft x 3ft, on average. These typically come in brown and white, black and white and tricolor. The calfskin come from Columbia. They retail for $75.00 each or $60.00 each, wholesale (five or more). For larger wholesale quantities, we can offer you a custom quote.

View our gallery to see our full range!