The Wild Goose
Hand-carved Geese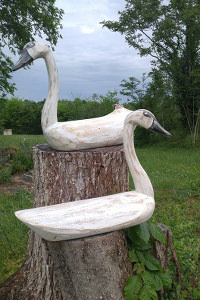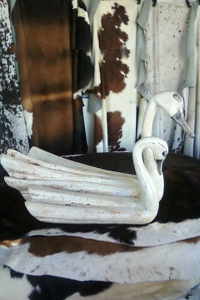 We make geese in all sizes, shapes and colors. They may have a bold, straight neck or a dainty, curved neck. We use various types of wood: cedar, poplar, oak, maple and, on occasion, wood from Louisiana, such as cypress and pine.

We make the geese together as a team. Mason begins by cutting and shaping the body of the geese with a chainsaw, then the heads and necks are cut out on the bandsaw. I then continue to build the geese, assembling and coaxing them into their unique forms and personalities. We putty around the seams and, when the putty is dry, each goose is sanded and painted, then lightly re-sanded and varnished.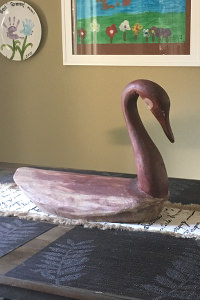 Making our geese is quite a process, but we really enjoy it! The geese range from small to extra-large and, of course, every one is unique. We pay great attention to detail when making the geese so that each one is a beautiful work of art! Since the type and burl of the wood will often dictate the kind of goose it will yield, what finally emerges can be a wonderful surprise!

Our geese are priced as follows:

Small curve neck goose: $50.00
Small straight neck goose: $65.00
Medium curve neck goose: $75.00
Medium straight neck: $95.00
Large curve neck: $125.00
Extra-large straight neck: $150.00

These are the base prices for basic geese. The more unique wood will have a custom price.

Please visit our gallery to view more examples.